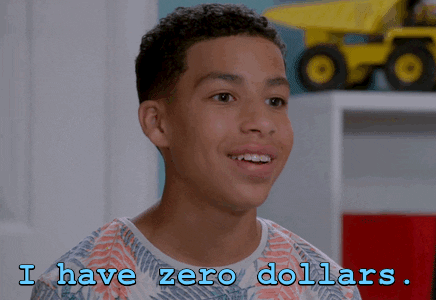 Raise your hand if you use your overdraft protection like a high-risk spending account.
The popular manual about recovery from alcoholism says that when we get sober and stick with it that "fear of people and economic insecurity will leave us."

I'm sitting on my second-hand couch in my junior one bedroom apartment, scrolling through pages of online banking records and despairing. I don't feel fearful about my financial circumstances because I try my best to ignore them completely.
Student loan debt means that I am always behind and deferring payments adds to the growing interest. I am paying the minimum amount (at the very least) towards my credit cards each month, but that only chips away at a giant block of debt that threatens to flatten me.
I have a full-time job, contract jobs and side gigs that I work regularly but it's only enough to stay afloat and sometimes it just doesn't cut it. Sometimes I overdraft to pay for groceries.

One unexpected, larger-than-usual purchase (a doctor's visit and prescription medicines, for example) can throw everything out of whack and requires (if possible) a dispiriting call to parents for that $40 that will temporarily fix everything.
 
It is embarrassing and exhausting to admit that you are throwing everything you have at your debt and losing.

To vent, my artist friends and I talk about what we'd do if something catastrophic happened to us. Does the ambulance driver take Kohls cash? Will the student loan emails stop if you're dead?
 
In the continuing battle to get my shit together, I can admit that sobriety has helped with my finances.

I no longer wake up to outlandish Uber receipts or mysteriously spend $75 by myself at a series of forgettable bars.

I created a spreadsheet to track paying off my credit card debt, even if it takes years.
I have a Gmail calendar to alert me when bills are do and as much as the scrambling sucks, I'm almost always on time. I've even visited a financial coach.
I still spend too much money at the Mexican restaurant next to my apartment but at least I remember eating the enchiladas. That's progress, right?
Please reload