Like Summer Camp For Losers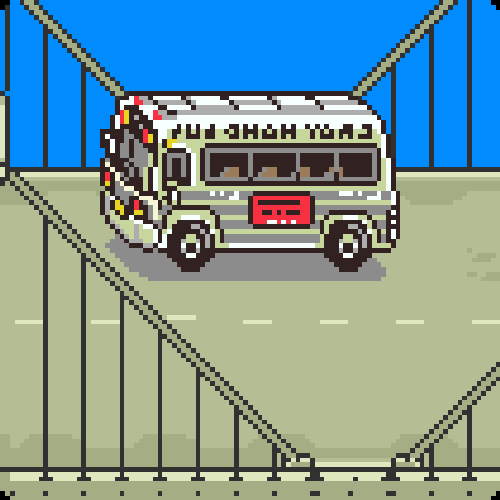 It's late afternoon and I'm on a Greyhound bus to Iowa. There is a crying baby in a seat of ahead of us and a man with an alarmingly wet cough a few rows back. At the front of the bus, a woman who has been calling her friends to say her phone isn't working has been on that very phone since the bus left the Chicago station at 10 a.m.
Now on a new call, she's complaining about the crying baby. I know - as the whole bus does, by now - that she will get off at Davenport, so I don't have to endure her too much longer. I'm reading a Mary Karr book and my boyfriend, a saint for accompanying me on a trip like this, is listening to a podcast and sketching Nina Simone with red and blue colored pencils.
Despite the eccentric fellow passengers, a second upset baby and the impending respiratory infection from the old guy's phlegmy cough, I'm satisfied that my plans have thus far worked out. We've put in our vacation hours, booked a hotel and now just have to sit.
In an hour or so, we will be in Iowa City for a comedy festival called Floodwater Comedy Fest. Strange as it is, this exact moment is my favorite thing about doing comedy: I'm headed to an unfamiliar destination to try to make strangers laugh.
I'm very fortunate (and crazy) to have traveled to Tennessee, Oklahoma, Ohio, Wisconsin, Pennsylvania, Nebraska and Illinois for festivals. Several years back, I was loading some things into another comedian's car in preparation for a trip back to Chicago when my boyfriend asked, "How much do you make at these things, anyway?"
This is a question that makes me either cringe or - depending on the day - collapse into a heap on the ground. Comedy, unless you are headlining, often don't pay. Many generous festival runners will help with free food, free drinks and often assist in coordinating places for comics to stay.
So how much did I spend to attend any one of those festivals? Hundreds of dollars. Cumulatively? Maybe a few thousand, overall. It sounds insane to travel by Greyhound, Megabus or shitty comedian sedan such long distances for the opportunity to perform once or twice to an audience who may have already seen several shows that night. Was it worth it - literally and figuratively? No idea. Was it fun? Hell yes it was fun!
I'll digress for a moment. The model of how comedians make a living (or attempt to) has changed dramatically since the comedy boom of the 1980s.
Comedy histories chronicled in I'm Dying Up Here by William Knoedelseder, I Killed by Rich Shydner and Comedy at the Edge by Richard Zoglin, to give a few good examples, detail the crazy ups and downs of  (mostly straight white guy) comedians who began performing at crumby clubs in the '70s and became certified stars in the '80s.
These guys had a bit of talent and a lot of luck (and a fair amount of cocaine) and found themselves on television, in movies and selling out stadiums.
When people ask me about "making it" as a comedian, I have a hard time explaining to them that this old world model is not the reality for working comedians in 2018.
Note that I say "working comedians" just to mean people who are attempting to do comedy as a career, versus someone who performs occasionally for fun. I could write 8 different posts about what it means to comedians to be serious or not about A Career in Comedy. The ridiculous but cutthroat hierarchies of amateur (read: not professional) comedians are the stuff of future, tell-all books, I assure you.
Successful comedians' career trajectories make no sense, even in 2018. Some comedians have never-ending series of menial jobs, terrible gigs and failed projects for a decade before they become on-TV-right-now-and-selling-out-stadiums-style-successful.
Other people perform for a few years and then land a dream gig. Success is relative. Many of my current comedic heroes eke out a meager living by playing bar after bar, club after club, in a dizzying array of one nighters that would make your head spin. Even famous comedians can't catch a break some of the time.
I understand the morbid fascination with a unconventional jobs, so I'll be honest: I had the most fun and felt like I did the best work when I cobbled together regional shows, frolicked (read: day drank, hooked up) with other wild comedians at festivals, stayed on friends' and lovers' couches and combined work from home jobs with show money to be able to buy groceries and booze.
I felt like a Real Comedian, whatever that is. I currently work a full-time job, contract/freelance jobs (often several at once) and the occasional paid show to sustain myself in a bigger city. How's that working out for me? I'll keep you posted.
I've performed to stone-faced crowds at pizza parlors in Bentonville, the oldest gay bar in Tulsa (a 3-day tour that netted me $28) and this weekend, a funeral-home-turned-music-venue in Iowa City.
All in all, I've done a dozen festivals and lots of mini-tours. I may not be a household name but I can definitely give you some tips on how to have a weird-ass time AND do some stand-up.
Whether you're someone who is new to comedy or a long-time performer who is finally ready to get your name out there in new scenes, next week I'll share some tips about how to set yourself up for success with festival submissions.
By the way, I had a great time at Floodwater and deem all Iowans nice and friendly. Shoutout to all the festival runners, everywhere, who are good humans in addition to being good producers. Running a festival is hard work.
If you aren't a comedian and you're wondering how you can contribute to our bizarre and probably-a-bad-idea lifestyle, buy emerging albums, t-shirts or literally tip a comedian after a show. We're all just doin our best, y'know? 
Please reload